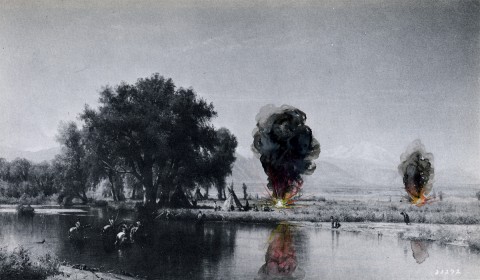 I was deeply shocked by the conflict between Israel and the Lebanon.  Both the interviews with Lebanese civilians and the newspaper photos of the aftereffects of the bombing had a great impact on me.   It had the effect of bringing home not only the devastation of that conflict, but also the phenomenal damage being wrought by the war in Iraq.  I cannot say precisely why this particular conflict had such a profound effect, as I had been concerned about the war in Iraqi for some time, and I have a deep abhorrence of all violence.
Perhaps it is my past acquaintance with a number Lebanese citizens, or the fact that a friend's boyfriend was stranded there at the time that lead me to my concern.  But the simple fact was that it felt closer and more personal than any other foreign conflict.  It may also have been because, as a child growing up in Virginia, I had seen Cedar of Lebanon – a row of them – growing in a botanical garden.  From that I had formed a romantic vision of the place; it became a land that I have known though I have never been there.   I think this long-held vision also made me consider how I would feel if a thing I hold precious, the landscape of my childhood, was destroyed.
These mixed media drawings combine the personal and the political to an extent that is not typically to be found in my work (which normally deals with emotional relationships between individuals).  From a number of old books I chose images of the idyllic American landscape, painted by artists of the Hudson River School among others.  To these I added small interventions in watercolor and gouache paint.  A tree was exchanged for a mushroom cloud, a hill for a napalm explosion, and the grey clouds of artillery detonations drift over a grassy field surrounded by oak trees.  I have inserted destruction into a very American scene, and by doing this I hope to make understandable for an American audience the impact of war on oneself and ones environment.  At a very personal level I have also introduced destruction into an important part of my own consciousness.