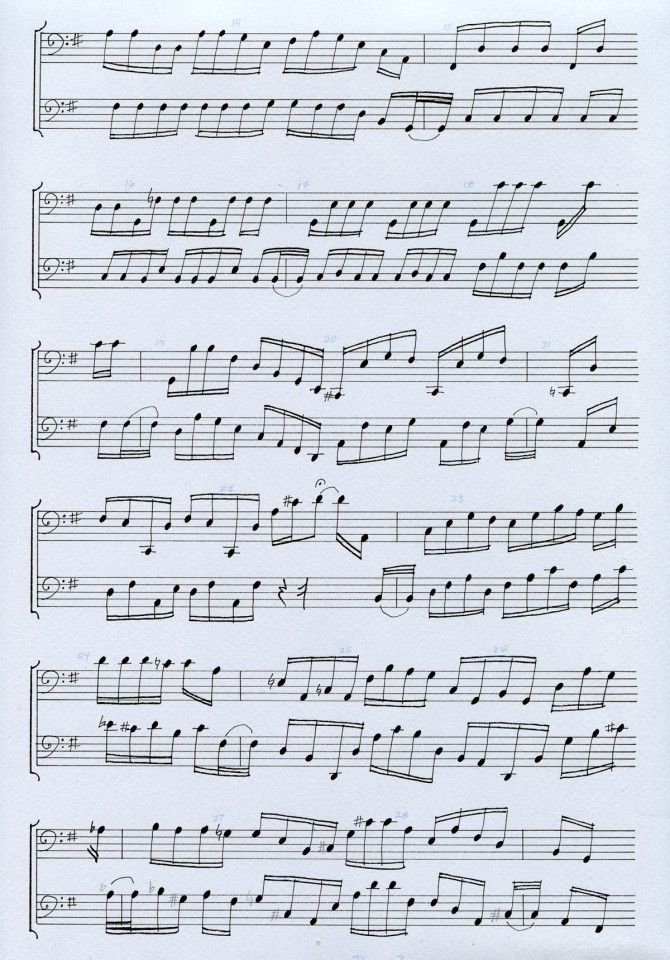 Click here to listen: Selection from Bach Recomposition
Part 1 (documentation of 1st rehearsal)
Performed by Martha Siegel and Katherine Wheeler

I am a visual artist with a particular interest in drawing attention to form and process as well as exploring themes of time and perception.  For this reason I have a developing interest in temporal mediums such as film and, as in this piece, music.  Here I altered Bach's Prelude from the Cello Suite in G major for solo cello so it must to be played by 2 cellists, with each musician playing every other note.
The project is as much about the process as it is about finished product—an echo of my current painting process.  Though the goal is to eventually play this version of the Suite so that the notes are played on top of each other with a sixteenth of a note overlap, slurring the piece perhaps beyond recognition.  I am as interested in documenting the process of learning and playing the piece; I want to understand and utilize the experience of the musicians as they move towards a perfect, final performance.  The obliging cellists who are supporting me in this experiment have described the process that the work imposes as akin to reciting the alphabet backwards, something requiring an immense amount of focus.  In the early "rehearsal" the piece is slow and labored, perhaps closer to a forced dialog or the motion of a saw cutting through wood than a traditional rehearsal.
As the musicians become more familiar with the piece it begins to more closely resemble the original, but lacks the original's fluency because, with a strange sort of disjunction, the sound is coming from two places at once.  And that, in part, is the point.  I chose the Bach Prelude because it is a work that most cellists know and play with pleasure, hoping that by making the progression more difficult; altering what is known or assumed and creating more "work" or friction.  In doing this, I aim to draw attention to both the form and the process of playing of the piece, while also compressing the time taken to play it.  In the same moment the Suite becomes both slower (to read) and faster (to play).  I relish the idea that although the finished product will compress Prelude temporally, for the musicians the process is intensely slow, perhaps even tedious and frustrating – the opposite of what one would expect of "speed".  As the Cello Suites are also very familiar to music listeners, I am also interested in seeing if the new piece will resonate: if it will be at all recognizable to these listeners.