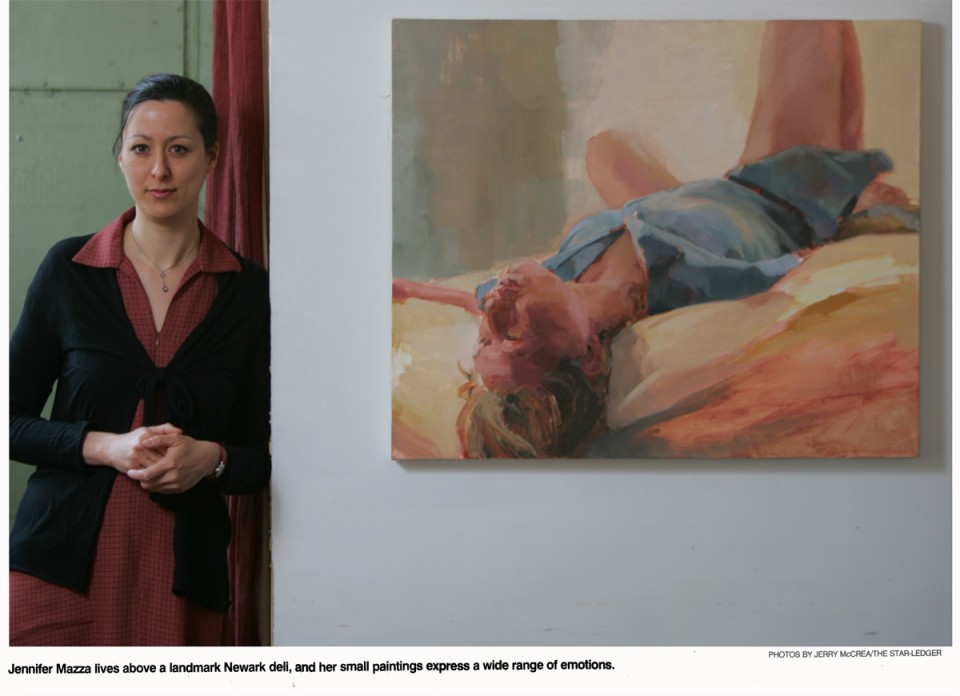 Rising Newark artist Jennifer Mazza represents sex and violence…irony and humor
by Dan Bischoff/Star-Ledger Staff
Wednesday April 23, 2008, 9:05 PM
Jennifer Mazza is an artist who lives in Newark, a painter, in fact. She lives with a roommate in a light-filled apartment above Hobby's Deli at Branford Place and Halsey Street, and has been an artist-in-residence at the Newark Museum and at P.S. 122 on the strength of her small, almost tiny oil paintings.
Her work is focused for the most part on hands: Hands crammed absently into a mouth, or plunged into the buckling pages of a book, or, in one memorable, early series, squishing a jelly doughnut into globules of scarlet goo.
Mazza, 36, has garnered notice for these odd little paintings because, small as they are (usually smaller than a sheet of copy paper, not more than 6.5- by 8.5 inches), they often express the emotional range of an altarpiece.  Fingers stand in for Roman soldiers, nailing a chin or a lip with their verticals and diagonals, or occasionally gnarling into a fist pressed against cheek or throat. Convincingly realist and painted in a high blond tone (she sees a correspondence with Jenny Saville, the English artist who first appeared over here in the controversial Saatchi exhibition called "Sensation" and paints colossal, nude, fat women), Mazza's paintings often carry subtle suggestions of both violence and sexuality. But that's not all they suggest.
"I actually think the paintings are kind of funny," Mazza says. "I started out doing ears, you know, stretched this way and that, out of shape, kind of abstracted. I was thinking about Vincent Van Gogh. It was like, he looked for a part of his body that he really didn't need in order to cut it off. He didn't even cut off his whole ear, just the tip of it. It was like a painter's plea for attention."
Mazza is trying to fit her work in with a revival of representational painting that has been going on around the world for more than a decade. This revival work is often presented in a similar context, with meta frames that mock the style itself — as if the artists were worried folks would see representational painting as an attempt to revive a historical and now discredited concept of what art should be.
In China, where an ironic studio style grew out of government-enforced Social Realism, it is often called "Cynical Realism" and is exemplified by Yue Minjun, who does serial self-portraits wearing a huge, Joker-like grin. Over here, Yale-trained painters like John Currin and Lisa Yuksavage have brought critiques of commercial illustration, pornography, and contemporary social attitudes toward women (particularly female sexual roles) into their formally representational art as a way of legitimizing the relevance of their work.
Certainly, when you know that's a jelly doughnut Mazza's hands are squishing (she often models her own hands), you do know that she, too, is part of the art-irony game. The humor depends a great deal on your wondering at first whether it isn't some small animal, or some poor guy's viscera, that those hands are mauling. (Feminists could see these paintings as in praise of "women's work" in the kitchen — or on a guy's viscera.) It's the fact that Mazza's technique trails centuries of serious association with the expressive human figure in painting that gives it its punch.
"There's a kind of psychological dichotomy in art making," Mazza says. "You spend all day in the studio trying to make something sublime, and then you sell it for money… . I think that's why, in the current dialogue about fine art, sincerity is frowned upon. Making something that is both meaningful and intimate in that larger context is really kind of difficult. It's easier, maybe it's more honest, to be mocking."
Painting in this style is enormously time-consuming. Mazza teaches two or three days a week at New Jersey City University and City College in New York, and spends her other days from 10 in the morning until 6 in the evening (or "till 11:30, depending on how it's going") painting, taking Sunday alone as time off. Unlike photography or found-object assemblage, painting is both solitary and self-referential, and makes unique psychological demands.
"You need to work all the time just to keep your hand in," Mazza says. "Vacations are a problem because it can take forever to reacquire your touch. And it can be hard just to keep believing in what you do. As an artist, you go into the studio every day wanting to do something 'meaningful,' but every day from around 2 until 4 in the afternoon, I go through my daily dose of art angst. 'Does this say anything?' I've found that if I keep at it, by the evening I'm usually so busy trying to finish something that I don't have time to feel sorry for myself."
Mazza was born in Virginia, outside of D.C. Both her mother and father paint, and her grandmother taught painting at a summer camp she attended. She went to a small liberal arts college, got married to a budding mathematician and lived for a while with him in Delaware, where she first began painting the figure more than landscapes. The Delaware/Brandywine school of realism probably has some murky presence in her work. After her marriage broke up she got an MFA at Rutgers' Mason Gross School of the Arts, in New Brunswick, graduating in 2000.
Living above Hobby's — a building that houses several other artists — came about indirectly. Mazza used to take the train into New York while studying at Mason Gross, and from the tracks she could see the sign for the Sumei Arts Center, where the Prudential Center now stands. When she graduated, she walked over and introduced herself. Soon she knew several of Newark's downtown art community, and through Troy and Anker West she met painter Andrew Maishman, whose brother was just moving out of the flat directly above the deli. She's been there ever since, now going on seven years.
Finding the funny in Van Gogh's ear was, of course, only the beginning. In a way, Mazza has sought to frame her realism not with surreal subject matter or non-fine art references (like porn or advertising illustration) but by bringing the frame in, cropping the figure, restricting its space. By reducing the figure to a fragment but treating that fragment with all the time-honored texture and light of oil painting, she makes it into something elegiac, almost as if her odd little paintings mourn a whole tradition.
That's neither Realist nor Expressionist, and not even really Cynical. Rodin used to model hands for different sculptures, and toward the end of his career he would take casts of these different hands and rearrange them into strange tableaux — "The Hand of God," for example, or the famous "Cathedral." Fragments, in the end, are Romantic.