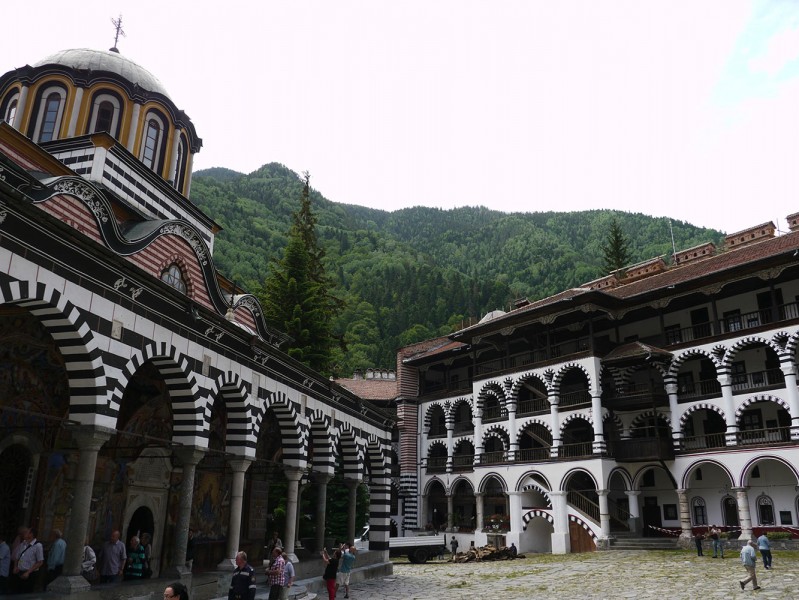 Trip to Rila. A large van with driver, a Slovakian woman studying German in Sofia, a middle aged Australian woman with her possibly Greek husband, a American couple in a bubble with their Lands-end clothing, backpack, bellypack, tennis shoes. they had traveled many places already on this trip and so bubblefied said rude things in English forgetting or not caring that anyone else might understand. for some reason both couples seem adverse to making any sort of conversation with us, the two women on their own, even eye contact was avoided.
Rila is all stripes, mountainside, stone, pine trees, alongside a rushing mountain stream. I am thinking of Mount Athos, gruff bearded monks, and smooth faces novices. the tower, the oldest part of the monastery was not open, nor the kitchen with its blackened bee hive ceiling and its giant pots for feeding 300 monks and pilgrims, nor did I have time to walk to John of Rila's hermit cave, so my experience was somewhat superficial. There are bells that can be rung, and do ring the hours, but to call the monks to prayer there is a large plank and a hammer to hit against so it resounds to remind one of the nailing to the cross.
The donuts – mekitsi, at the monastery bakery were very tasty even if the wind blew away the powdered sugar.